Coalition of Civil Society Organizations, under the auspices of Joint Civil Society Committee, on Wednesday, 4th July, 2018 stormed the streets of Abuja alleging that Nigeria has turned to a slaughter field under the administration of President Muhammadu Buhari.
This, they said can be gleaned from killings of over 5,000 people from different parts of the country in six months by herdsmen, bandits and cattle rustlers, without any practical steps taking by the government to end the bloodshed, but have been busy making policies that protect cows and their herders.
The group that assembled at the Unity Fountain and marched through Shehu Shagari express way to the Presidential Villa gate, accused President Muhammadu Buhari of non-challant attitude towards the killings that has made Benue, Taraba, Plateau and Zamfara states "killing fields".
Prof. Chidi Odinkalu, former Chairman National Human Rights Commission, who protested with the group, said that the country is in danger, because the killer's have returned to the Federal Capital Territory, with the seven police officers who were murdered at their duty post.
Odinkalu reiterated further that if Nigerian government has value for human lives, the National flag should have been lowered to show respect for the murdered police officers.
The groups, in a joint statement read by Yemi Adamolekun, Executive Director, EIE Nigeria, while accusing Buhari of failing to fulfil the mandate of the oath he took on May 29, 2015, which among other things include to ensure safety and protection of all Nigerians, also demanded that he should take responsibility of all the killings and stop it immediately.
CAN has also described the statement attributed to Presidency that it was better for citizens to give land for cattle colonies than be killed in the recurrent herders/farmers clashes as reprehensible. It called on all well-meaning Nigeria to rise up and speak against such a position, saying "Those who use violence to take away what belongs to others are unfit to be called humans.".
The Christian Association of Nigeria, CAN, has announced to join a nationwide protest tagged "Enough is Enough" slated for July 11th, to protest the unending killings across the country. It called on all peace-loving Nigerians with value and sanctity for human life to join the protest.
CAN has however postponed the planned protest till further notice due to some circumstances beyond its control.
Despite the cancellation of CAN's protest, you can join other active citizens on Wednesday, July 1th as we march to the Villa again to hold our public office holders accountable!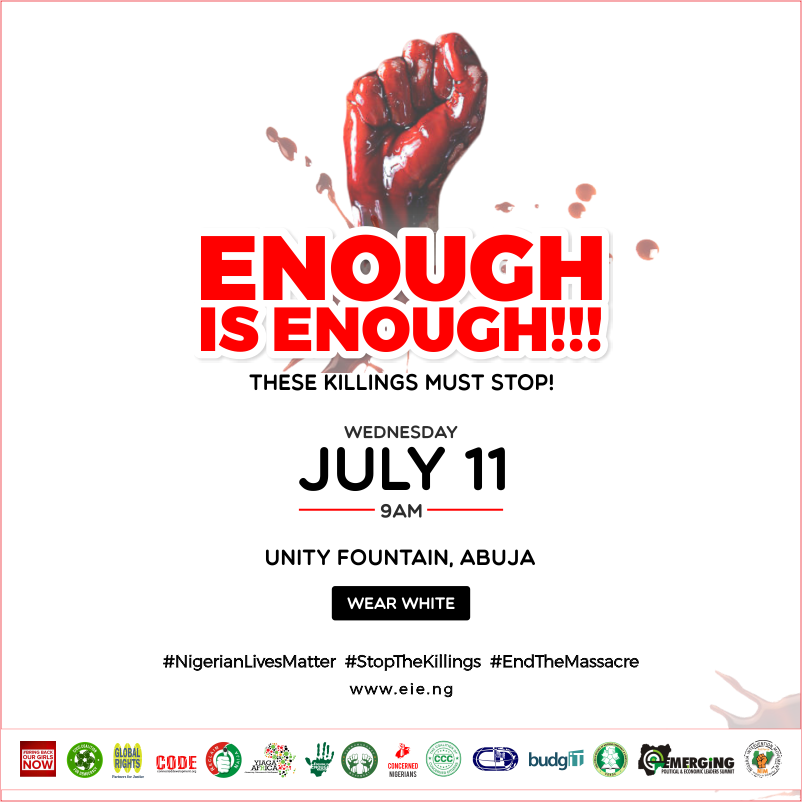 Today's survivors are tomorrow's victims.